July 23, 2020 - July 24, 2020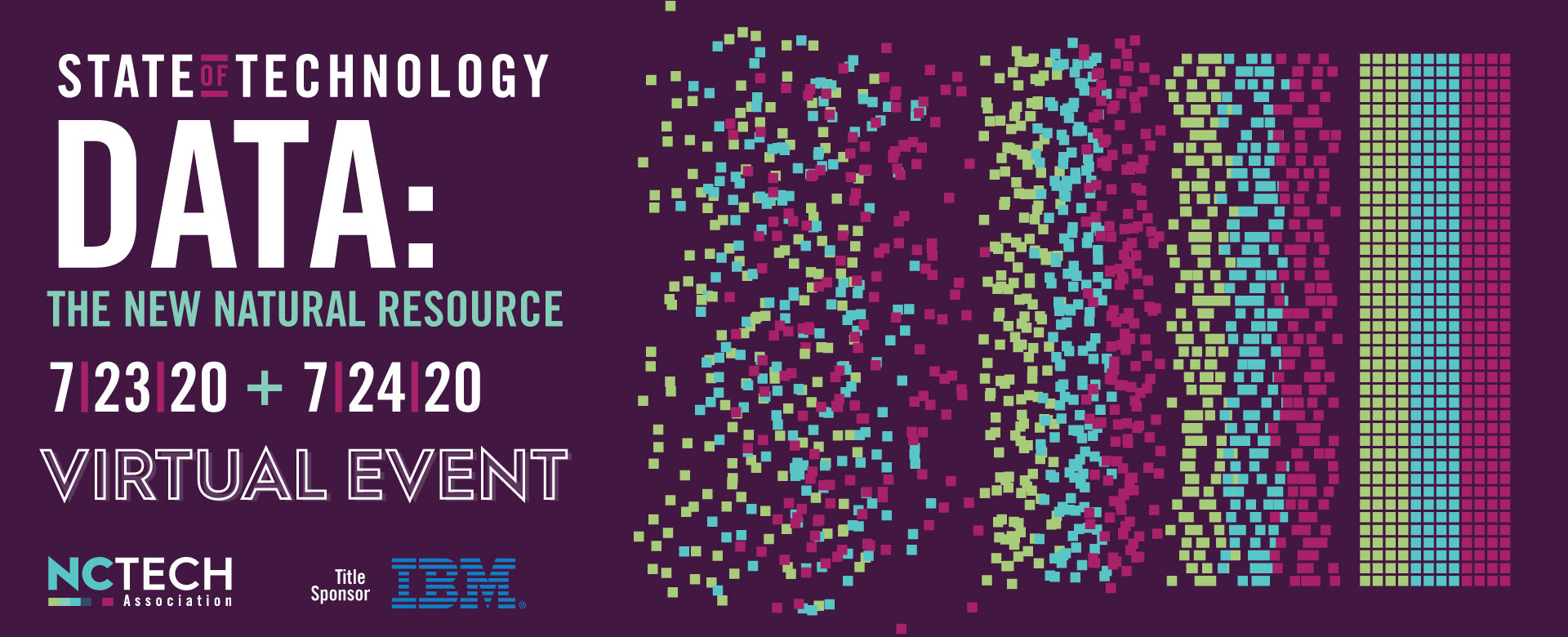 Executives from across sectors and functional roles participated in this virtual event on July 23 + July 24 for two days of engaging keynotes, interactive panel discussions, a fast paced pitch competition from tech startups and a virtual Exhibit Showcase.  This year's conference explored how Data is impacting our lives personally and professionally.
Big data is the digital convergence of structured data found inside databases, and unstructured data flowing from new sources like social networks, mobile devices, sensors, RFID, smart meters and financial systems. Today, organizations can capture and analyze any data, regardless of what type, how much, or how fast it is moving, and make more informed decisions based on that information.
At NC TECH's 2020 State of Technology Conference, we explored Data as a new natural resource for companies of all sizes and how it is impacting our lives personally and professionally. 
MISSED THE LIVE EVENT?
Even though the live event occurred on July 23+24, you can still access the content from the entire event. 
Register online and we will send you the credentials to be able to access the recorded content which will be available thru September 24. 
REGISTRATION FOR STATE OF TECH RECORDING
Members $50
Non-Member $100


Existing State of Tech Registrants: Please note that the event recordings are included with your registration, so no additional purchase necessary.
Agenda, Speakers + Panelists
The two-day virtual conference consists of:
Multiple Keynote Speakers

Gubernatorial Candidate Segments (Democratic/Republican)

Virtual Tech Expo

Fast-Paced Startup Showcase

Six Panel Discussions 
View the current line-up of speakers, panelists, agenda and topics here. 


Tech Startup Showcase
The event featured a TECH STARTUP SHOWCASE with six innovative North Carolina startups selected to demo/pitch to an audience of 600+ business and technology leaders.  Selected startups must be headquartered in NC with an innovative product or service that is or has the potential to be a standout/groundbreaking technology in the areas of DATA (could include analytics/business intelligence, cloud, data science, security, visualization).


SPONSORSHIP
Interested in sponsoring the NC TECH events? Contact Tracy Sternberg or call 919.856.0393 to inquire.
---
Fine Print:  All registrations to NC TECH events are final and non-refundable.  Refunds will only be offered if the event is canceled.  Registrations are transferable to another qualified guest.  Please contact NC TECH at 919.856.0393 to request such a transfer.