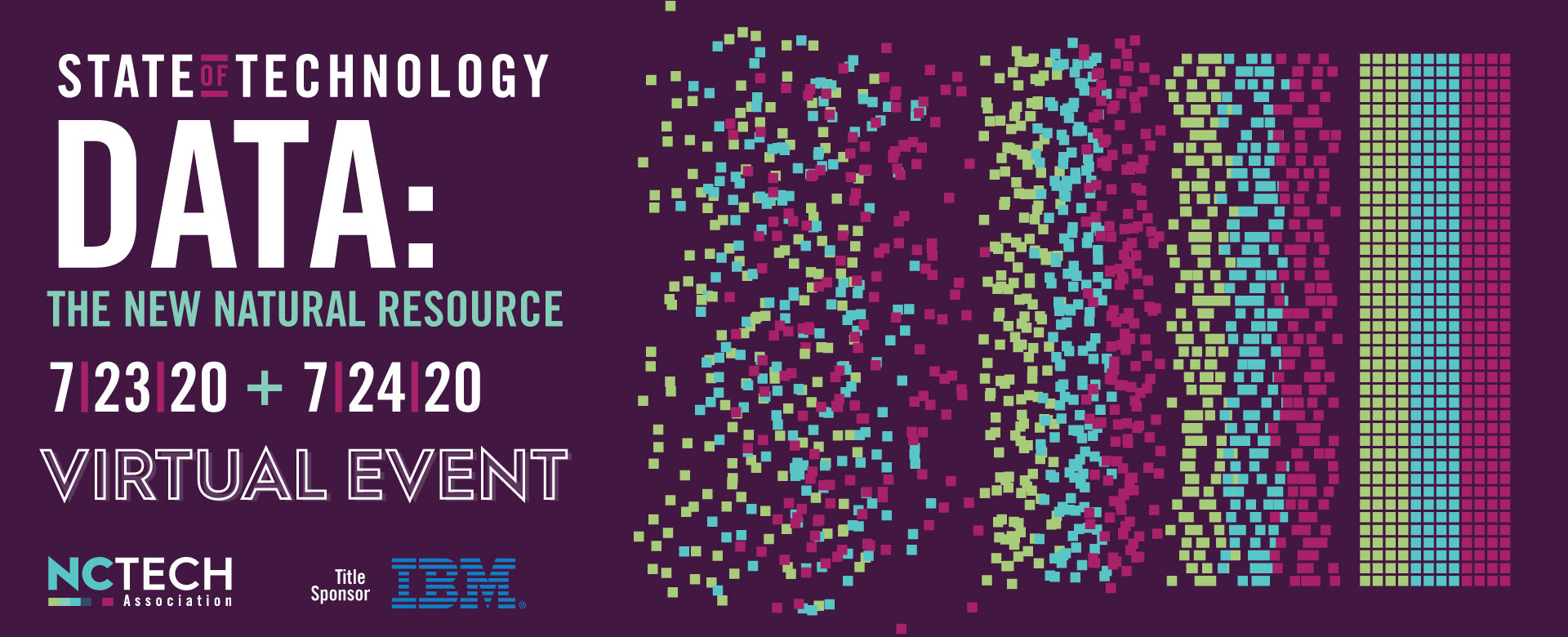 Executives from across sectors and functional roles will gather July 24 (New Date) for a day of engaging keynotes, interactive panel discussions, a fast paced pitch competition from tech startups and an Exhibit Showcase.  This year's conference will explore how Data is impacting our lives personally and professionally.
Big data is the digital convergence of structured data found inside databases, and unstructured data flowing from new sources like social networks, mobile devices, sensors, RFID, smart meters and financial systems. Today, organizations can capture and analyze any data, regardless of what type, how much, or how fast it is moving, and make more informed decisions based on that information.
At NC TECH's 2020 State of Technology Conference, we will explore Data as a new natural resource for companies of all sizes and how it is impacting our lives personally and professionally. 
Breakout Topics
Conspiracy versus Convenience – Your Data Privacy

People, HR and Talent Analytics – How Data Is Impacting Recruiting and Retaining

The Power of Visualization – How Can You Use Data For Executive Storytelling

Bias in Data – How Can We Overcome It?

Data For Good – How Data Can Be Used To Improve Our World

Data Massaging – Let's Strip It Down
Tech Startup Showcase
The event will feature a TECH STARTUP SHOWCASE with six innovative North Carolina startups selected to demo/pitch in front of a crowd of 600+ business and technology leaders.  Selected startups must be headquartered in NC with an innovative product or service that is or has the potential to be a standout/groundbreaking technology in the areas of DATA (could include analytics/business intelligence, cloud, data science, security, visualization).The Tech Startup Showcase will be announced soon.
Note: The submission period has ended for both panelists and startups. NC TECH will notify applicants when panels have been assigned and startups chosen.
Agenda
 Friday, July 24
8:30-9 AM: Registration/Exhibit Showcase Opens
9-10:15 AM: Welcome/Opening Keynote Presentation/Startup Showcase l
10:15 AM–12:30 PM: Concurrent Breakout I and II
12:30–1:15 PM: Luncheon
1:15–2:30 PM: Startup Showcase ll/Closing Keynote

 
(A more detailed agenda will be provided prior to the event)
When
Full Day Conference
Friday, July 24
8:30 AM-2:30 PM
Where
Raleigh Convention Center
500 S. Salisbury Street
Raleigh, NC  27601
WHO ATTENDS?
600+ business and tech leaders from companies, organizations and institutions, representing all sizes, stages and industries.  C-level, VPs, Directors – of Marketing, Technology, Innovation, Security, Operations & Finance.
Registration
Individual Registrations
Member Rate: $150
(Early Rate through July 10)
Member Rate: $200
(Regular Rate after July 10)
Non-member Rate: $250
(Early Rate through July 10)
Non-member Rate: $300
(Regular Rate after July 10)
Reserved Tables
Member Reserved Table w/8 registratIons: $1,500  
Non-Member Reserved Table w/8 registrations: $2,500
Not a member?
Not a member? Contact a member of our membership team at 919.856.0303 or email membership@nctech.org if you are interested in learning more about joining. To see if your company is a member, view NC TECH member directory.
New Members: 1 complimentary registration to the State of Technology event, or
1 complimentary registration to the NC Tech Awards Gala
SPONSORSHIP
Interested in sponsoring the State of Tech event? Contact Tracy Sternberg or call 919.856.0393 to inquire.
Click below to view the sponsor menu and available levels.
---
Fine Print:  All registrations to NC TECH events are final and non-refundable.  Refunds will only be offered if the event is canceled.  Registrations are transferable to another qualified guest.  Please contact NC TECH at 919.856.0393 to request such a transfer.
HOTEL ACCOMMODATIONS
We do not have a block of rooms available. 
Attendees may utilize HotelStorm (code: NCTECHPerks) for discounted pricing on hotels. The Marriott Raleigh City Center, Sheraton Raleigh Hotel and Residence in Raleigh Downtown are close to the Raleigh Convention Center.