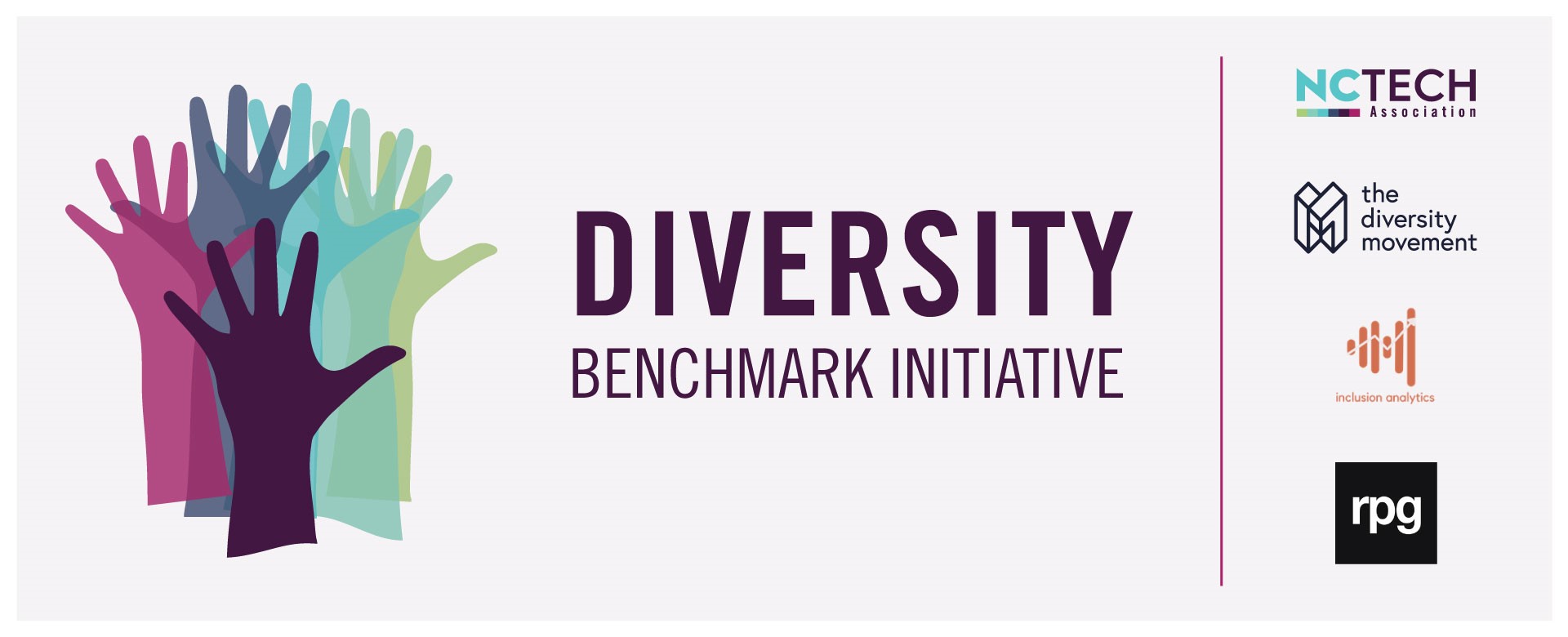 Diversity Benchmark: Sign up by January 21 to Participate!
The North Carolina Technology Association (NC TECH), along with partners The Diversity Movement and Racepoint Global, are pleased to announce a collaboration that will define a baseline of how tech and tech-enabled companies/organizations are faring in the areas of diversity, equity and inclusion.  The aggregate data will provide a broader picture of how companies across the region are doing with efforts to build a more diverse and inclusive workplace.
The 2022 benchmark will be the first of what will be an annual benchmark to provide information for business leaders, government officials, economic developers, and others to utilize as the state's tech sector is spotlighted as a national tech hub.  
The Benchmark Initiative will have participating tech and tech-enabled companies/organizations complete two Core Assessments provided and supported by project partner Inclusion Analytics. The Core Assessment includes an assessment focused on Policies + Practices which captures demographics and policies, and the other on People + Perspectives which seeks to understand the people and perceptions within those companies. 
recorded webinar
View the recorded webinar below for an overview of the Diversity Benchmark including details about the process, what it will mean for your business to participate and what you can expect in return for your participation. 

REGISTRATION FEE FOR CORE ASSESSMENT
NC TECH Members:      $1,500
Non-Members:               $3,000
Participating Businesses Receive
Policies + Practices Assessment: This assessment helps businesses identify inclusive policies that are already established, as well as provide ideas for additional polices or practices that could be implemented. The assessment to be completed by appointed representative * 

People + Perceptions Assessment: This assessment helps businesses understand employees' perceptions of the policies in place and the workplace culture. An anonymous link will be provided for participating company to invite employees to complete the assessment within the designated window of time * 
Business-Level Results: Data analysis and reporting will be conducted by Inclusion Analytics through the month of March with aggregate-level results provided to NC TECH, and business-level results to each participating business only.  Results will include an interactive dashboard with quick insights and detailed data, a maturity model with suggested next steps and industry comparisons** to understand how peers/competitors stack up.
Resources: The Diversity Movement will lead complimentary executive briefings to guide participants in applying next steps. In addition, participants will be eligible to access The Diversity Movement's suite of DEI Innovation tools at a special rate.
*Assessments for the 2022 Diversity Benchmark will launch on January 31 and are set to close on February 18 — providing a three-week completion window. 

**Industry comparisons can only be provided if enough businesses participate.
Please Note: NC TECH, The Diversity Movement and Racepoint Global will not have access to the assessment data from any individual participating business.  Only aggregate data will be shared with project partners to benchmark how companies across the region are doing with efforts to build a more diverse and inclusive workplace.
Participating businesses must:
Identify as 1) a Technology Company

or 2) a

Tech-Enabled Business
Ideal target business will have 50+ employees based in North Carolina. (If your business has fewer than 50 employees in NC, please reach out to NC TECH to discuss.)

Participate in a virtual meeting (60-minute) with Inclusion Analytics on January 27 (9-9:45 am) for Q+A prior to the launch of the Core Assessment.

Submit the Registration Form (link below) with your company information, an appointed representative who will be the designated contact responsible for coordinating the core assessment, and payment information by January 21, 2022. To participate, companies must also process payment for the Core Assessment Fee by January 31, 2022.