August 15, 2023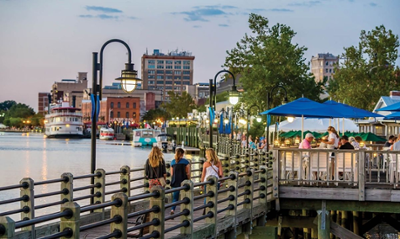 We Invite You to Wilmington 
Hello fellow members of NC TECH. 
We would like to welcome you to Wilmington on September 13 for the ABCs of New Technology Tools and Brews + Bytes. 
We are in the tenth year of an evolution into an innovation-based economy at the beach. 
Wilmington is now the #1 startup ecosystem in the USA for small cities of a similar size and the top ecosystem in the WORLD for cities under 300,000 people according to StartupGenome and StartupBlink rankings. 
In a recent Tech Index report, Wilmington was ranked in the top 55 cities in America, more than 100 spots above our city population size. Wilmington was ranked #54 in the Tech Index and is the #162nd largest city by population. Now that is progress. 
The acorns of Live Oak Bank have grown into powerful FinTech trees that have transformed this beach town into the #7 fastest growing economy in the USA only a few spots behind Raleigh. Yes, you read that right. nCino became a publicly traded company in July 2020. Apiture has raised over $30 million and now has over 300 employees. Canapi Ventures is the largest venture capital fund in the South for tech and fintech with more than $450 million. All of this growth has reversed the brain drain of UNCW graduates as the companies above have hired more than 500 recent graduates. 
You may remember at the NC TECH Awards, a few Wilmington companies over the years have won the Most Promising Tech Startup Award (NextGlass) or the Top Ten Startups to Watch. Well NextGlass became UnTappd that grew to 125 employees and the company was acquired by a private equity firm from Boston. And OpiAID just won a $2.8 million SBIR grant and now has 22 employees as they become a solution to the opioid crisis through technology. 
In the next ten years, the great employees of the companies listed above will become entrepreneurs. In fact, that is already happening with young companies like Telios, Raleon and Ohanafy Software that just raised $2.8 million and has been hiring for growth. 
Again, we would like to welcome you to Wilmington on September 13 for the ABCs of New Technology Tools and Brews + Bytes. We hope you enjoy the BREWS of Ironclad Brewery and the delicious BYTES of the success of our new tech-based economy. 
Jim R. Roberts
Founder, Network for Entrepreneurs in Wilmington (NEW)
Founder, WALE Angel Network
---
Interested in submitting a piece for the NC TECH blog?
The Take 5 series features brief 5 question interviews with leaders who are making an impact within their organization and in the community. The interviews are shared in the monthly e-newsletter, blog and through social media.
Visit our Marketing Toolkit page for a submission form. Questions? Contact Rachel Kennedy.