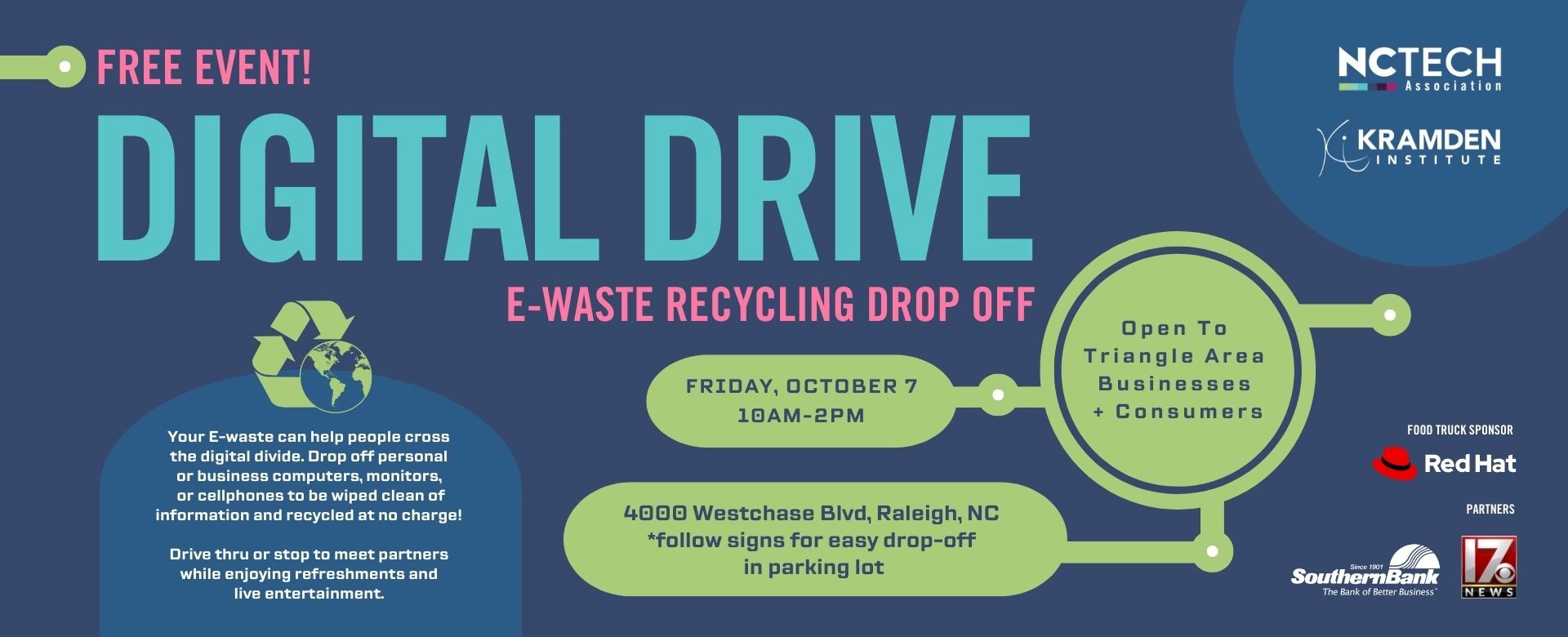 Do you or your business possess computer equipment that is no longer being used? Your E-waste can help people cross the digital divide.
NC TECH and member, Kramden Institute, will host a Digital Drive on October 7 (10am – 2pm) at 4000 Westchase Boulevard (Follow the signs foe easy drop-off in the Parking Lot) in Raleigh, NC to securely collect your personal and business surplus computer equipment. You can swiftly drive thru and drop off equipment or stop to learn more about partners while enjoying some refreshments and live entertainment.
Gather your computers, laptops, tablets, cell phones and make plans to donate them at Digital Drive.  View the complete list of Items Accepted below and note that equipment of any age/make/condition will be accepted. 

ABOUT KRAMDEN INSTITUTE
Kramden's mission is to provide technology tools and training to promote digital inclusion. Kramden Institute is a 501(c)(3) charitable organization so your equipment donations are tax-deductible, subject to IRS regulations.  As a non-profit, Kramden is pleased to offer donation receipts. You can compete an Equipment Donation Receipt and bring it with you on October 7 or complete the form onsite. 
Kramden does a DOD-level 3-pass wipe to sanitize devices for data security.
PLEASE NOTE: If you can't drop off on October 7, Kramden can accommodate donations at their loading dock at 5010 Highway 55 in Durham, NC. For donations of approximately 20 computers or more, Kramden's staff will happily make plans to come by with a van to collect your donation. Contact kramden.org. 
ENJOY LUNCH AT THE DIGITAL DRIVE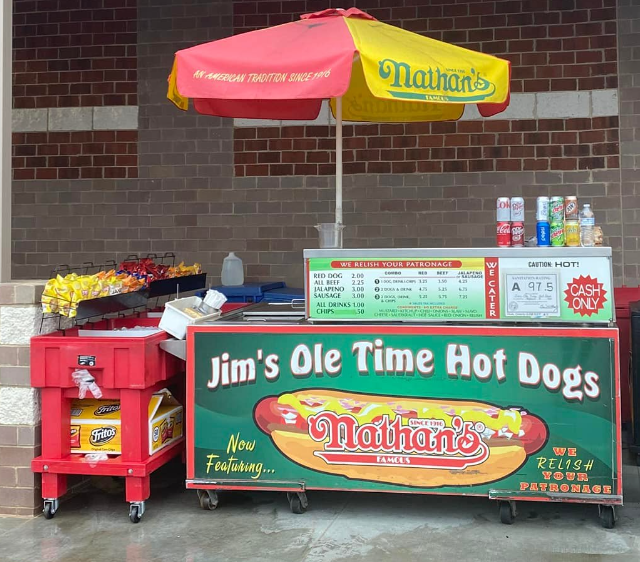 The first 100 donors receive a food voucher for 2 hot dogs, a bag of chips and a drink from Jim's Ole Time Hot Dogs. Compliments of Food Truck Sponsor: Red Hat!
When and Where
Friday, October 7 (10AM – 2PM)
4000 Westchase Boulevard Parking Lot
(Follow the Signs for Easy Drop-Off)
REGISTRATION
The DIGITAL DRIVE is a free event. Register to receive a reminder closer to the event. 
ITEMS ACCEPTED
Desktops computers (any age/make/condition)
Laptop computers (any age/make/condition)
LCD monitors (any age/make/condition)
Tablets (any age/make/condition)
Peripherals: mice, keyboards, hard drives, RAM, flash drives, power cords, VGA cables, etc.
Servers and Enterprise networking equipment
NOT ACCEPTED
CRT Monitors
Printers
Scanners
Shredders
Stereo Speakers
Household Appliances
Consumer Electronics
Lamps or Bulbs
Sponsor the Digital Drive
Interested in sponsoring the Digital Drive at one of the levels below? Contact Michelle Calton.
DIGITAL DRIVE Food Truck Sponsor (SOLD)
Show your support for the responsible recycling of electronics while getting some positive branding through broad promotion of the event.
Recognition as the food truck sponsor with logo on lunch vouchers given to the first 100 people donating to the Digital Drive
Option to have you representatives to hand out vouchers for branding and networking
Logo on graphics and collateral to promote the event (website, social media, flyers for distribution) and the day of the event
Recognition included in media/communications to promote the event
Encouragement to spread the word to your network
Option to set up a table/banners for branding during the event; can provide giveaways including brochures or discount codes/coupons
DIGITAL DRIVE Supporting Sponsor ($1,500)
Show your support for the responsible recycling of electronics while getting some positive branding through broad promotion of the event.
Logo on graphics and collateral to promote the event (website, social media, flyers for distribution) and the day of the event
Recognition included in media/communications to promote the event
Encouragement to spread the word to your network
Option to set up a table/banners for branding during the event; can provide giveaways including brochures or discount codes/coupons