August 24, 2022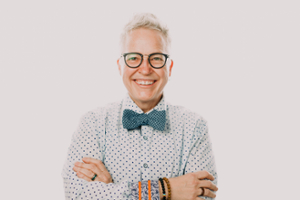 Written By
Kate de Gutes
Vice President of Editorial and Content Strategy at Racepoint Global
If people remember Edie Windsor, it's typically because she was the lead plaintiff in the Supreme Court case that overturned the Defense of Marriage Act and paved the way for same sex marriage.  But long before her landmark case to remove inheritance taxes on her late wife's estate, Windsor received a Master's degree in mathematics from New York University.  In 1958, the year after earning her degree, Windsor started work at IBM. Within ten years, she attained the title of senior systems programmer, the highest technical title at IBM.  At IBM, she programmed mainframe servers and was known for her "top-notch debugging" skills.
Windsor is reported to have said, "They couldn't fix the code because they couldn't read it. But I could read code until it wrapped around the room and back again."
With or Without Coffee, You Belong in the Conference Room
When I started working for tech companies in the mid-1990s, more often than not, I was the only woman in the room.  Ultimately, I found a great female mentor, one of the first women at the time who achieved a "director" title at Intel.  She told me a story I've used as a guiding principle ever since. 
Once, my mentor walked into a conference room early to take a few quiet moments before an important presentation she was about to give. Shortly after entering the room, a male software engineer came in and said, "Hey, sweetheart, could you make some coffee and have it ready before the meeting starts?"
I asked my mentor if she told the guy to buzz off.  "Oh, no, Kate." She smiled at me. "Never do that.  I went and fixed coffee, returned with a tray of mugs and a thermos of coffee.  As I set everything on the conference room table, another male colleague said, 'Hey, Connie, are you about ready to start your presentation?' The guy who asked me to make coffee turned bright red and his jaw hit the tabletop."
Connie's view was sometimes, doing what's asked of you will shock and surprise people out of their stereotypes. I've never forgotten that advice.
Building Visibility for Women in STEM
Although you might think the story above happened in 60s or 70s, it actually occurred in the early 90s. I often wonder what the programming world was like for Edie Windsor. How she found the strength to show up to math class and, later, IBM, every day? Who mentored her?
Psychologist Penelope Lockwood, who inspired the creation of Ada Lovelace Day, found that women need to see female role models—such as Edie Windsor—more than men need to see male role models.  "Outstanding women can function as inspirational examples of success, illustrating the kinds of achievements that are possible for women around them," said Lockwood. "They demonstrate that it is possible to overcome traditional gender barriers, indicating to other women that high levels of success are indeed attainable."
After the Pandemic, It's Time to Rebuild Opportunities For Women In Tech
But finding a mentor became more difficult and gender inequality in the technology sector worsened during the pandemic.  According to an article in CIO magazine, women in tech were either laid off or left the workforce at twice the rate of their male counterparts. Data from a survey done by TrustRadius found that 78% of women in IT said they felt the pressure to work harder to prove their worth.  In fact, according to McKinsey, fewer than 30% of companies have adjusted performance reviews criteria to balance out the added stress and pressure on women that the pandemic created.
As you enter IT and build (or rebuild) your IT career, here are three ways to set yourself up for long-term success:
Find an affinity group. Whether you join Women In Tech or Girls In Tech, an affinity group offers support and access to the people and information you need for success in a tech career.
Remember you belong in the conference room. Consider that women are outnumbered 3:1 at Microsoft and slightly more than 2:1 at Amazon. Regardless of the numbers at your company, you're there to offer your unique point of view and skillset. Your voice is important—even if it's that much more difficult to be heard.
Model good behavior. Too often women are told they can be good mothers or good employees, but not both. Dina Bruzek, senior vice president of engineering at Huntress, says that leaders must model work-life balance to reinforce company values and all the roles women play—in and out of work.
It's time for companies and leaders to step up and truly support women in STEM fields.
This starts within organizations, from flexible employee PTO policies to advancing different ideas, perspectives, and career paths. Practice good allyship regardless of your gender and work to eliminate classic tech bro culture.  63% of women in IT and engineering say they have worked at a company where bro culture is pervasive and that this manifests differently across the tech industry.
Finally, if someone asks you to make coffee for the meeting, go ahead and brew up a pot.  You never know, they just may wind up working for you. 
Kate Carroll de Gutes is vice president of editorial and content strategy at Racepoint Global, an integrated communications agency that helps shape conversations that matter for tech-forward brands.
---
Interested in submitting a piece for the NC TECH blog?
Visit our Marketing Toolkit page for a submission form. Questions? Contact Rachel Kennedy.