June 01, 2021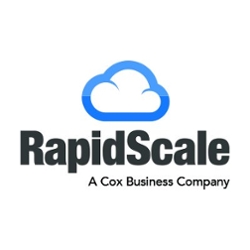 For SMBs and enterprises in need of secure, predictable, and customized IT solutions and services, RapidScale provides a one-stop cloud platform and enablement team with which to outsource some, or all, components of an organization's IT. RapidScale sets itself apart from MSPs and other managed cloud services providers with its expertise in application delivery, focus on security and compliance, and commitments to the "people" side of technology. RapidScale is a subsidiary of Cox Business, the commercial division of Cox Communications.
Founded in 2008, RapidScale has dual headquarters, with a primary office located in Raleigh, NC and an additional office in Irvine, CA. There are over 150 employees in the NC headquarters including RapidScale's Vice President and General Manager Duane Barnes and EVP, Sales Bob Buchanan.
RapidScale has about 230 employees, with plans to continue filling additional positions throughout the United States. So far this year, RapidScale has added more than 30 new team members across sales, engineering, support and finance, including a senior cloud solutions consultant focused on new customer acquisition in North Carolina specifically. RapidScale's team spans across the United States, with dedicated representatives in 13 key regions.
Describe your corporate culture in just 3 words, what would you say?
Collaborative, Innovative, Supportive
Can you share some unique or fun facts about your company?
While our industry-leading cloud solutions and platform are certainly key to solving some of the most common IT and business challenges, that's only part of the equation. We deliver a market-leading experience to our customers, which is supported by our average customer satisfaction score of 4.8 out of 5. RapidScale remains a high-touch, people business and we've been fortunate to attract and maintain some of the best talent in the industry.
What kind of technology trends have affected your company, and how has your company dealt with those trends?
The global pandemic significantly impacted RapidScale over the past year, especially as businesses across the United States and the world were forced to shift gears and focus on how to enable and secure their employees and data amidst the new normal. Organizations of all sizes, across industries, had to ensure the right technology solutions were in place to support their operations, and this led many to turn to cloud computing. While the past year was certainly unusual and placed unforeseen demands on us all, we're blessed to be in the position to serve our partners and customers with technology solutions that address these exact needs. Our core offerings, including Desktop as a Service (DaaS), Microsoft 365, SD-WAN and others, promote a work-from-anywhere environment, allowing businesses to maintain efficiency, productivity and security no matter where their employees are working. The massive pivot to the cloud, driven by the need for organizations to maintain productivity by providing anytime access to essential applications and data, was a catalyst for record growth. 
Has your business won any recent awards or other achievements you'd like to share?
RapidScale was recently recognized as a finalist for Business Intelligence Group's 2021 Excellece in Customer Service award. RapidScale has a proven track record of delivering industry-leading customer experiences for end-user support and managed cloud services. We also recently achieved our HITRUST CSF Certification to further mitigate risk in third-party privacy, security and compliance. This achievement validates our commitment to meeting key regulations and protecting sensitive information, and places us in an elite group of organizations worldwide that have earned this certification.
What do you see for the future of your business?
Undoubtedly, COVID-19 will have a lasting impact on all businesses. We anticipate that the short-term necessity of enabling remote work environments will evolve into a longer-term strategy for many organizations. While the first phase of the pandemic's impact centered on enabling the work-from-home model, phase two will likely center on better securing this new environment, since employees are now accessing corporate data and applications in new ways, on new networks. Unfortunately, cybercriminals saw a massive opprotunity to exploit the pandemic, leading to an increase in cyber security attacks and breaches - most of which happen at the employee level. We plan to focus on improving the cyber resiliency postures of our customers with managed cloud solutions that can holistically protect their environments, including Disaster Recovery as a Service (DRaaS), Backup as a Service (BaaS), Identity as a Service (IDaaS), email security, network security, web security, security awareness training, and more.
---
Connect with RapidScale:
---
Interested in submitting a piece for the NC TECH blog?
Visit our Marketing Toolkit page for a submission form. Questions? Contact Rachel Kennedy.