March 31, 2021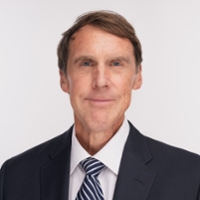 Larry Pickett
Chief Information and Digital Officer
Syneos Health
Larry Pickett is the April Executive Spotlight and the CIO and Digital Officer for Syneos Health, an NC TECH member. Larry, born in Asheboro, has lived in North Carolina all his life and moved away to spend 20 years in New Jersey. He moved back in 2015 to start a company in Research Triangle Park. He is married with three kids, with the youngest attending UNC Chapel Hill as a senior.
Q+A with Larry Picket
What is one of the most important lessons you've learned throughout your career, thus far, that others could benefit from? It is important to get a broad set of experiences and start with the objective of discovering what you are really passionate about – it makes work that much more enjoyable. Also, set very high career goals and build a plan to achieve those goals. I find when I interview candidates, very few understand that the position they are interviewing for requires that type of vision.
What's the abridged version of the journey that eventually led you to your current company? I worked in IT (Information Technology) leadership positions within pharma my entire career, starting with what was Glaxo at the time. I then spent 20 years as a Chief Information Officer within the space. Five years ago, I founded RxDataScience to create innovative data solutions for big pharma. My experience as a CIO was focused on buying technology and implementing it internally. As CEO of RxDataScience, I was on the outside selling in. Having both experiences to draw on made Syneos Health an amazing fit to combine both and build cutting-edge digital experiences for our customers.
What is the next big project you are working on? I am currently focused on evolving our Dynamic Assembly® model from a partner model, to selectively buying, building, and partnering. We call this model Dynamic Assembly 2.0. Today, at Syneos Health ®, we are bringing in technology solutions to deliver innovative solutions for our customers. We are evolving and building capabilities that enable us to do it in a much faster and automated fashion than what we are doing today – on both our front end strategy of who we partner, buy, and build with as well as our back end execution where we digitize processes and accelerate our capabilities.
What advice would you give to students interested in pursuing careers in STEM? I would say to not specialize too early, gain that broad experience and then decide the area you want to delve deeper in by exposing yourself to the best experts in the world. Stay technical (as that's what valued in the marketplace), but combine that with a strong business understanding and how to communicate that value. This differentiation will put you in great demand and take you very far.
What is your personal mantra? It has evolved over time, and at this point in my life it is all about serving others and helping them find a purposeful balance in life. Every January my kids and I set a New Year's Resolution and each one focuses on what I call the Five F's: faith, family, finance, fitness, and fun. Every morning I have quiet time to reflect on which of these areas need attention and what I'm going to do there.
What are your hobbies? I love to hike in the mountains, run long distance (I ran the Half NYC Marathon two years ago), and love watching college sports.
What is your favorite thing about living and working in NC? Growing up in the state, what I like most are the people. It has become such a diverse state as we have grown and attracted so many different cultures, and this has only increased my fondness for the people here. I also really enjoy the mountains, the beaches, and of course, the focus on college athletics and college sports.
What is your favorite place to vacation? I mentioned hiking, and have hiked a lot among the mountains of North Carolina. One special trip I do every two years is an 11-hour hike in the Swiss Alps. It really pushes you – it's six hours up the mountain and then five hours down, but it is such a great feeling throughout packed with breath-taking views throughout.
What's something on your bucket list? I've been to India several times and really want to go back during Holi – the festival of colors.
---
Connect with Larry and Syneos Health:
---
Interested in submitting a piece for the NC TECH blog?
Visit our Marketing Toolkit page for a submission form. Questions? Contact Rachel Kennedy.