April 30, 2020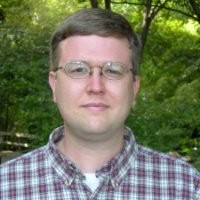 Keir Davis
Company: Xtern Software and HaystackCRM
Title: President/Founder
College: UNC Chapel Hill, BS; UNC Greensboro, MS
Degree/Major: BS and MS in Computer Science
Describe the journey that eventually led you to your current company?
I founded Xtern Software in 2002. I started the business out of my townhouse in NW Greensboro, and soon found a demand for custom software within the Triad and well beyond. The company continued to grow consistently each year, ultimately bringing on additional staff to support the growth of the business.
Five years ago, my wife, Jennifer Davis, stepped into the role of VP of Sales & Marketing. Xtern has continued to grow and is planning to bring on two additional software developers in the next few months to support its robust growth.
In 2016, I started a second company, HaystackCRM. HaystackCRM was originally created to manage customer relationships within Xtern. I quickly realized this fresh approach to customer relationship management would be valuable for other small businesses, particularly for sales professionals that tend not to work from an office.
What do you consider your greatest achievement personally and business related?
At a time when most software development is done off-shore, Xtern develops all software entirely within the walls of its Fisher Park office (in Greensboro). Our developers are graduates of UNCG, AT&T, and other local institutions. We are proving that tech can thrive outside of San Francisco, or even the Research Triangle.
What is the next big project you are working on?
Xtern recently launched a new product, called HarmonyB2B. We created HarmonyB2B because we found that companies needed a custom enterprise-level solution without the enterprise-level price. 
HarmonyB2B combines a robust Content Management System with CruxDB, a cloud-based catalog system. These two platforms are integrated from the ground up, eliminating the need for additional plug-ins or programs.
Keir David, pictured above with Bob Young, founder of Red Hat at the 2018 NC Tech Awards.
What are you like to work for?
We pride ourselves on being a workplace incubator for entrepreneurs. Our team is made up of folks who are curious and creative both inside and outside of work. I don't believe in a 9-to-5 version of yourself and another outside-of-work version of yourself. I believe that people thrive when they are given the opportunity to create meaningful work, and not just work that is handed to them.
What are your hobbies?
Aside from spending time with my wife and daughter, I like to play pinball at Boxcar Arcade in Greensboro, walk around my neighborhood in Hamilton Lakes, and sample beers at local breweries.
I'm also an active member of Summit Rotary (Greensboro) and serve on the UNC Greensboro Department of Computer Science Industry Advisory Board.
What is your favorite movie and/or tv show?
MASH, Seinfeld, and Modern Family.
What are your favorite apps?
I enjoy playing pinball on my iPad and am fascinated by all weather tracking apps. In particular, there's an app that tells me the water levels so I know if there's possible flooding.
What books are you currently (or have just finished) reading?
Astrophysics for People in a Hurry by Neil DeGrasse Tyson. And I also co-authored a book: The Definitive Guide To Linux Network Programming.
What is your favorite place to vacation?
Every summer, my family and I like to spend time at Ocean Isle Beach. My wife, Jennifer, and I started the tradition many years back, and even got married at a winery there. We've gone every summer with our daughter, Caroline, who is now in high school.
---
Interested in submitting a piece for the NC TECH blog?
Visit our Marketing Toolkit page for a submission form. Questions? Contact Rachel Kennedy.