January 03, 2020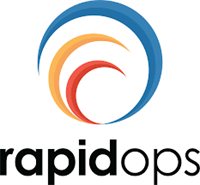 Rapidops is a full-service and full-scale digital transformation and software innovation company.
We're digital partners to forward-thinking companies looking to build business value through the creative application of the latest tech by building digital products & platforms, business process automations and AI/ML data analytics.
How many employees does your company have? What are your growth plans?
240 global employees. Growth plans involve increased hiring in NC Global HQ to support client on-site digital product delivery and project management. Focus on being the go-to long-term digital partner to innovative Southeast companies.
What do you love most about doing business in NC?
That our large companies are big enough to matter yet small enough to care. North Carolina has a lot of great middle-market companies that are looking to become more tech-enabled to better compete and create strategic advantages in today's fast-moving digital world.
If you could describe your corporate culture in just 3 words, what would you say?
Driven By Impact
Can you share some unique or fun facts about your company? What makes your business stand out?
We scaled up our tech team to service middle-market companies and Fortune 500s without the need to raise any outside capital.
We also love startups and have incubated a few of our own SaaS companies, with our sales CRM (Salesmate.io) reaching critical mass and scale to 1000s of paying subscribers and growing.
Our lean startup mindset and agile development methodologies translate to our clients - enabling them to deliver more high-quality and high-impact digital solutions at a fraction of the cost of their competitors.
What kind of technology trends have affected your company, and how has your company dealt with those trends?
Rapidops is an emerging leader in deploying open-source technologies. Our visionary CTO has our tech team on the path of developing expertise in the latest and greatest open-source tech...which has us today, continuing to deploy only the most impactful, cost-effective and scalable tech solutions for our clients.
What are the greatest obstacles and/or challenges that your business has faced? How have you and your business overcome them?
Every day creates challenges and we wake up each day with the startup mindset to be pragmatic creative problems solvers that love to deliver great tech.
Are there any cool or interesting technologies you are working with currently? Voice assistant ordering for retail and ecommerce; personalizing mobile and ecommerce shopper experiences with AI/ML; developing a unique mobile application three-sided marketplace to disrupt and industry;
Opening APIs for our Salesmate.io CRM to enable rapid adoption for other SaaS companies to white-label a leading CRM and marketing automation platform without creating their own...turning this into a profit vs. cost center.
Has your business won any recent awards or other achievements you'd like to share?
Rapidops Inc. is a 2019 Inc. 5000 award winner at #1312 with over 300% growth rate and ranked as the #2 fastest growing software company in Charlotte.
Our greatest achievements are our long-lasting relationships with our client partners, and those that get amazing job promotions and receive C-level opportunities due to the real-world business impact of our digital work together.
What do you see for the future of your business?
High growth and continuing to add extreme value for our clients by adding more clients looking to create and deploy digital products and platforms to provide them with competitive advantages over their competition. Our growth is based on client alignment and fit - not a sheer sales number.
If you could delivery high-quality digital products and services more rapidly and at a sustainable/scalable cost-advantage over your competitors - would you enjoy that?
We also envision incubating more disruptive SaaS solutions (like Salesmate.io) and mobile applications that provide value to others as software-as-a-service.
Is there anything on your website you want to highlight or any special events you want to promote? If so please share descriptions and relevant links.
View some of our recent case studies: www.rapidops.com/work
---
Interested in submitting a piece for the NC TECH blog?
Visit our Marketing Toolkit page for a submission form. Questions? Contact Rachel Kennedy.