November 07, 2019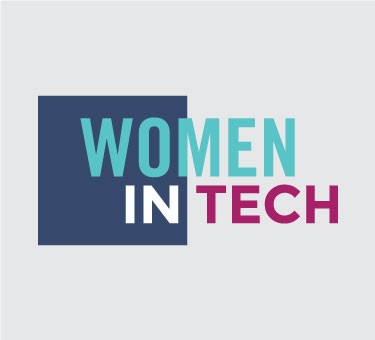 What do women need to be leaders in tech?
Early opportunities and a tribe.
Written By
Sarah Glova
Director of Growth & Communications
RIoT
The 2019 edition of the annual Women in the Workplace study was released last month, reporting that the leadership obstacle most women face is their first promotion—from entry-level roles to manager roles—which the study called the "broken rung."
Noreen Allen, CMO of Bandwidth, responded to the study during a panel from NC TECH Association, offering her perspective on how companies currently promote talent from within, and what organizations can do to improve.
"Often, people within companies—within the training and development organizations, people services groups—will look to folks that are already on that management track," said Allen. "But I think we need to look beyond that—we need to look at those folks who are the individual contributors, who are out there rocking their mission but maybe lack some of the important experience. Maybe they haven't developed skills in things like confidence, presence, charisma, conflict resolution." 
The idea is that organizations (and leaders within organizations) can take on the task of helping to discover potential leaders, especially if those junior-level team members simply need some soft-skills support to get to the next level.
According to the study, having mentors like Allen to support women as they work toward leadership positions is key. MetLife, one of the companies featured as a Case Study in the Women in the Workplace report, pointed to monthly peer group and mentoring opportunities as a way of supporting pathways for women into management roles.
"The reality is that management, historically, has been built by men," said Nasrin Azari, President of Mobile Reach, which she started in 2006. "So men sort of set the table on what's expected to be a manager. One of the things I would like to see, as leaders try to grow other leaders in the community, is—look at individual strengths. Recognize that the typical, historical manager or leader is not the only type that is effective."
Caitlin Hooks, Client Development Manager at the recruiting firm Greene Resources, and Advisor to NC TECH, shared that companies are re-examining both internal and external pathways to leadership.
"Companies are changing their hiring process," said Hooks. "If their process is bringing the same candidates, and they know that they need to focus on diversity, on hiring women, on hiring people of color—they may have to let go of what feels more safe, what they've always done. For example, we've had companies stop accepting resumes. They might ask our recruiters to submit stories about candidates, bypassing the traditional resume process that might present unnecessary hurdles for certain applicants."
According to the 2019 Women in the Workplace report, the United States can add up to one million more women to management in corporate America over the next five years if women are hired and promoted to managers at the same rates as men.
"Solving the greatest problems that we have in the world—hunger, other issues, technology challenges—it's going to take a diverse set of ideas and people," said Lisa Chang, Director of Tech Entrepreneurship and Commercialization for Poole College of Management at NC State University. "So I'm very supportive of women in technology leadership."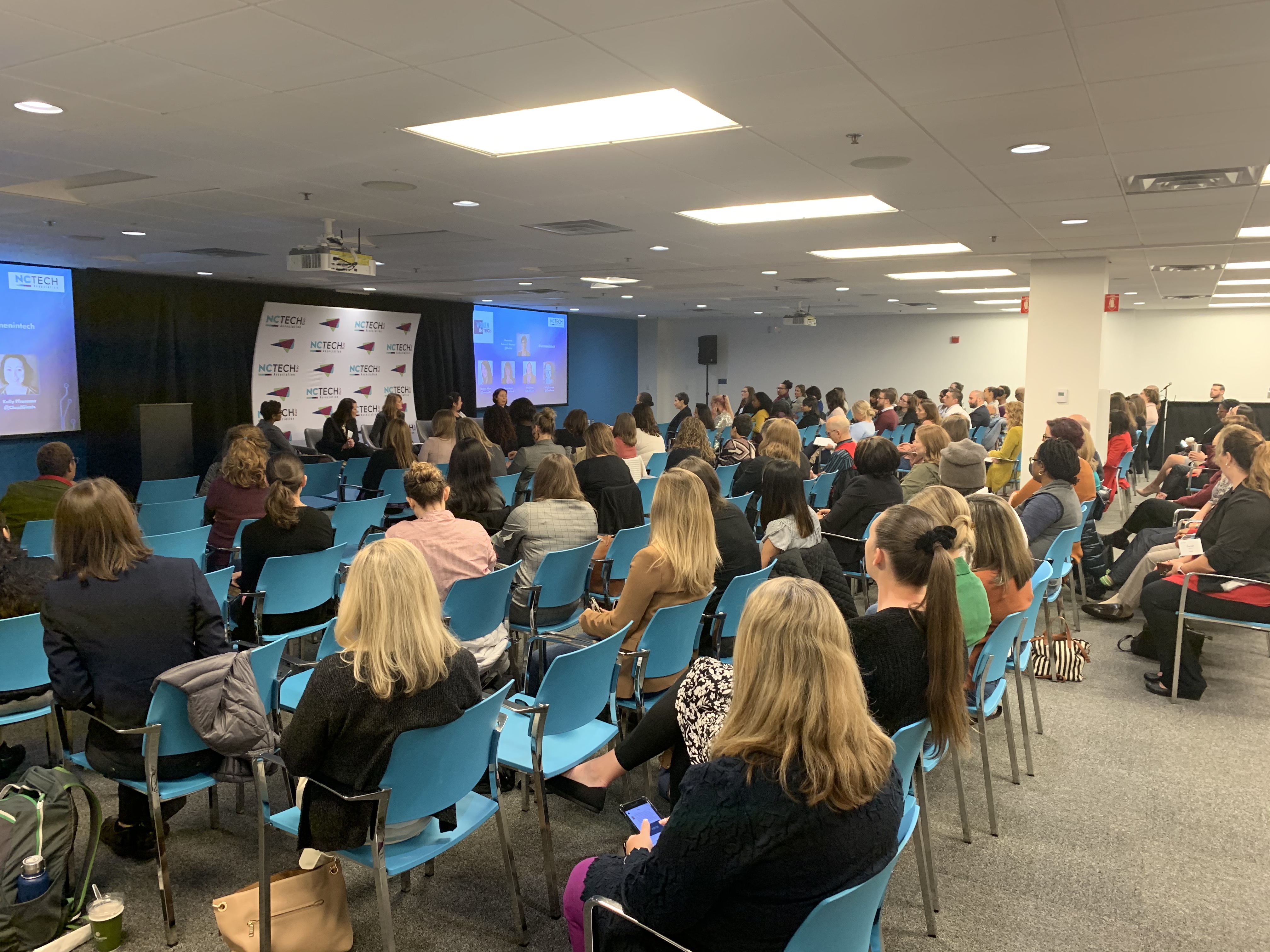 Panel of Leaders in Tech from NC TECH Association
The panel, "Women in Tech: Motivating Women to be Leaders and Entrepreneurs in Tech", was organized by The NC TECH Association, which has reported North Carolina as #1 in percentage of women in the tech workforce for the past three years.
"We started doing research in 2015, and that was a big surprise for us," said Michelle Calton, Vice President of NC TECH Association. "But while we're leading in this statistic, there's a ton of work to be done, especially in the upward mobility of women moving to higher-level or executive positions. So motivating women to be leaders and entrepreneurs in tech will continue to be a key focus for NC TECH."
Event panelists included Allen, Azari, and Chang, as well as Kelly Pfrommer, CEO and Founder of Cloud Giants, and panel moderator Tomesah Harrison, VP of Human Resources a MetLife. The panel was held November 1st at The Frontier in RTP.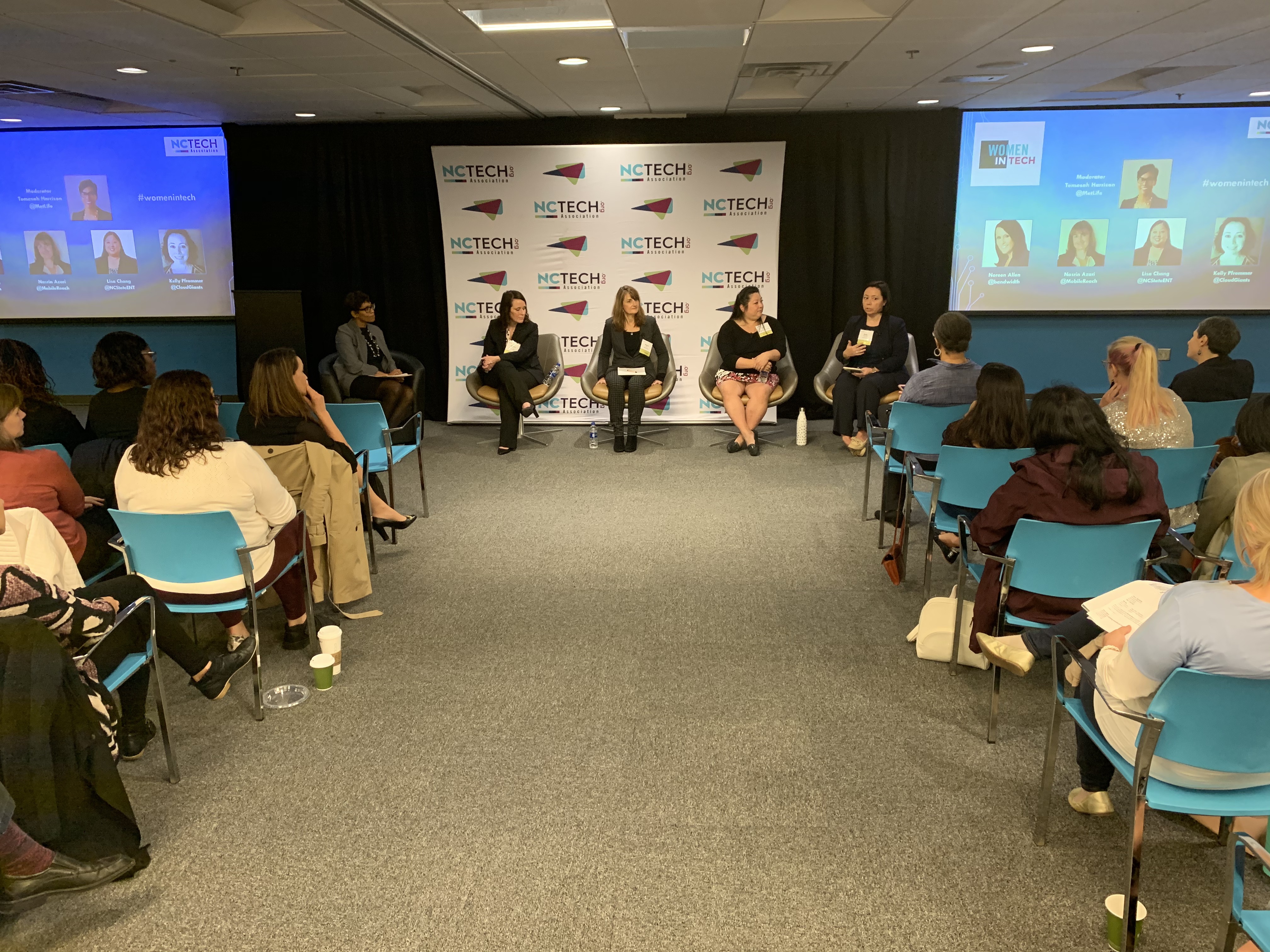 The Confidence Factor
"I think it's really important, for we as women—figure out a way to develop your own self-confidence," said Chang. "Start the process by believing in yourself and surrounding yourself with a support system—both on the business side and on the personal side. Invest time into developing a business circle. Have someone who can be your mirror on the days that you're not having it that you're good enough and that you're doing what you're supposed to be doing, and help recognize the things that you could be doing to improve."
As Chang spoke about the process of building support, other panelists commented on forming a tribe.
"It's not easy, whatever the path or the journey is," said Harrison. "We know—none of us go the journey alone. It's the beautify of network, tribes, board of directors, whatever you call it, that is able to do that for you when you need it."
The idea was that a "tribe" of support is there not only to boost confidence, but also to be authentic, to serve as a reminder that everyone experiences challenges.
"We also struggled, and were really afraid early on, and didn't have that confidence," said Allen, gesturing to herself and the other panelists. "So I think—being open, being vulnerable to say, 'You're feeling this way, you're unsure—but I was there too, and I'm still there, many days, feeling like I'm not sure what I'm doing.' Letting them know that, I think, is really important. So I think all of us—being vulnerable with folks, with our peers, with those folks that are more junior, that sort of assume, 'You've got it all together!' No, I don't have it all together."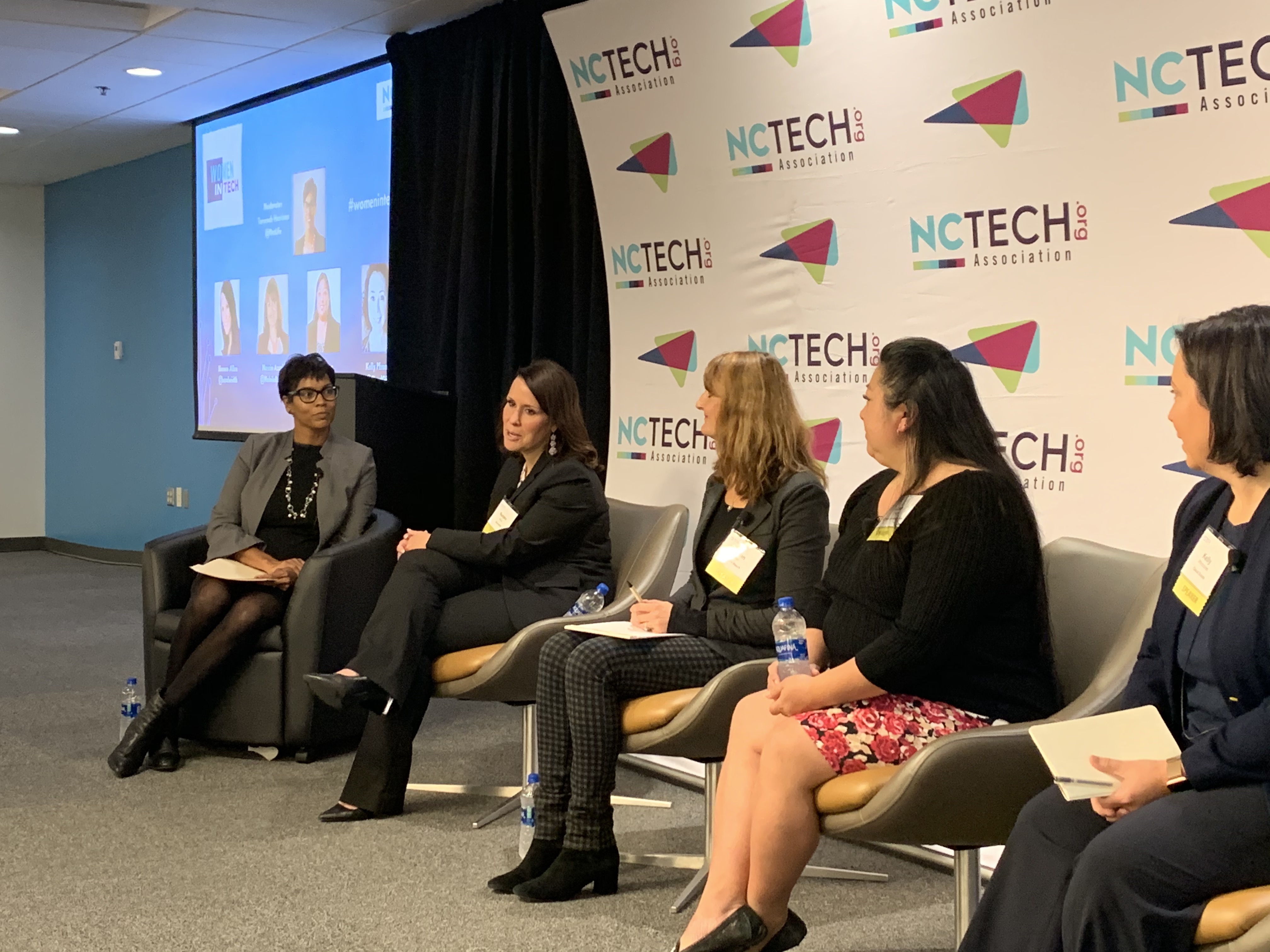 Women Entrepreneurs
Chang, Allen, and Azari also touched on the theme of entrepreneurship, and how women's entrepreneurship can be also tied to confidence and society's perception of leadership. 
"There's a misconception that entrepreneurship means 'all work and no play'. In this world of trying to have it all, it puts a lot of pressure on you," said Pfommer, who started Cloud Giants five years ago. "What does the media portray? Entrepreneurship being sacrificial, all in, that if you don't bleed for it you're not doing truly an entrepreneur. I think 'entrepreneurship' needs to be broadened, needs to be redefined to make it more inclusive."
Chang agreed that women need to feel comfortable seeing themselves as entrepreneurs. 
 "There are studies that show women are less likely to call themselves 'entrepreneurs'," said Chang. "They call themselves ' business owners' because that's softer. We need a little spine—the confidence of 'I can do it'—whether you're starting a coffee shop or starting the next Uber, don't second guess yourself. It's a self-denigrating thing to not see yourself in the same position that a man would - that's the kind of culture I want to eliminate."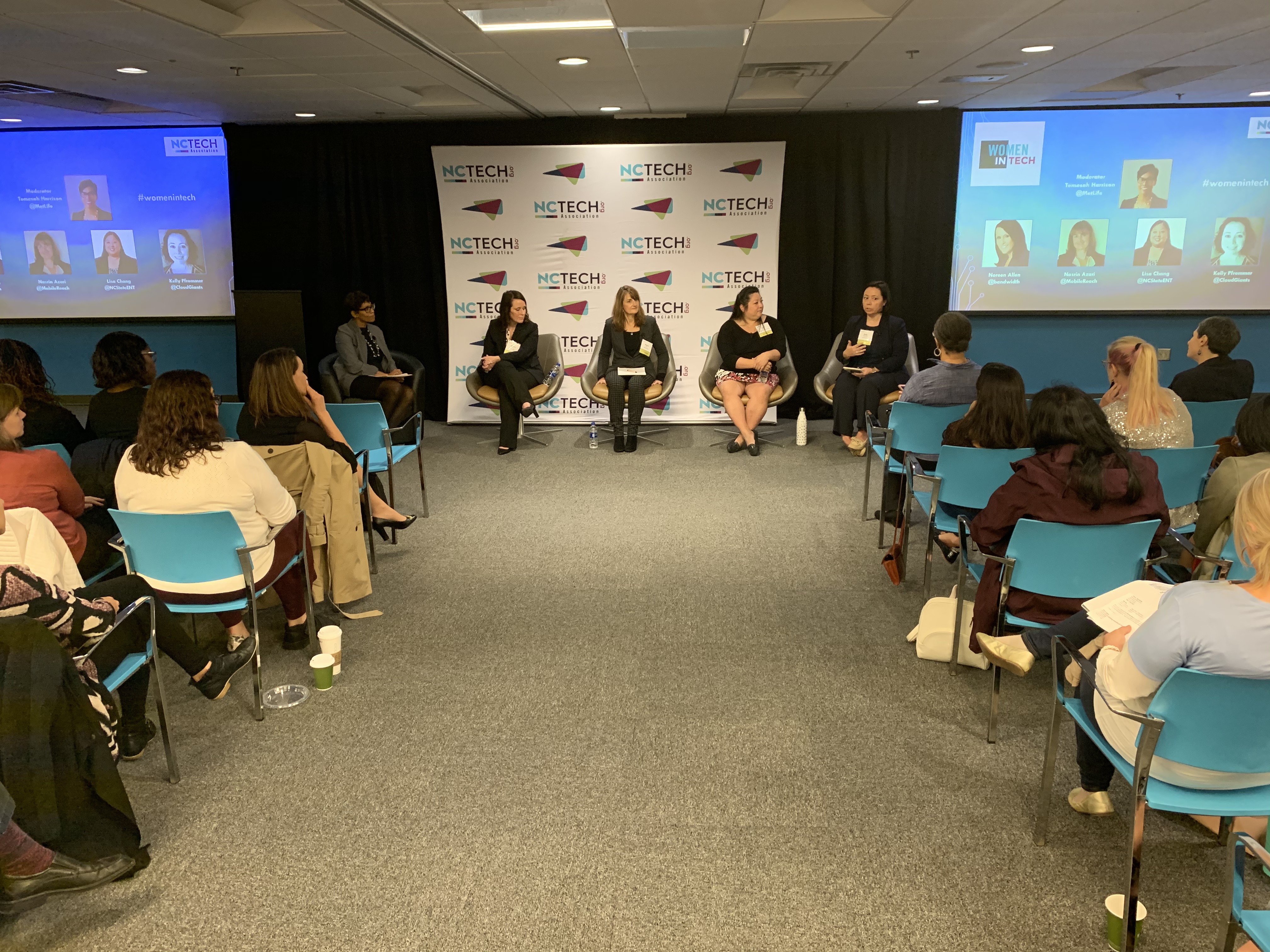 Resources for Women in Tech Leadership and Entrepreneurship
The NC TECH Association hosts yearly programming for women in tech, and has recently published a series of features about women tech leaders, with recent posts spotlighting women like Phaedra Boinodiris of IBM and Maria Thomspon of NC Department of IT.
The Women in the Workplace study is released annually, and it was released in October 2019 from LeanIn.org and the consulting firm McKinsey & Company. It is the largest study of the state of women in corporate America, based on five years of data from almost 600 companies. For more information, visit https://womenintheworkplace.com.
---
Interested in submitting a piece for the NC TECH blog?
Visit our Marketing Toolkit page for a submission form. Questions? Contact Rachel Kennedy.