April 30, 2019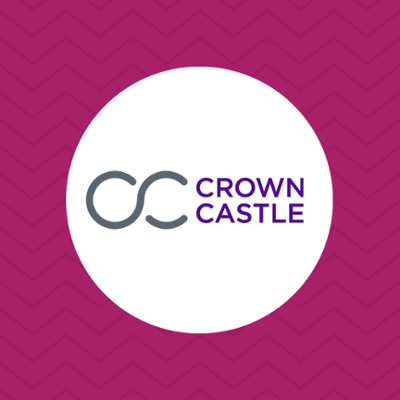 Crown Castle is the nation's largest shared communications infrastructure provider. Our comprehensive portfolio of towers, small cells, and fiber gives people and communities access to essential data, technology, and wireless service — opening the door to countless opportunities and possibilities. 
How many locations does your company have? What is the NC presence like?
Crown Castle has approximately 100 offices nationwide. In North Carolina, Crown Castle has about 150 resident employees and four offices – two in Charlotte, one each in Apex and Cary. 
In addition to our office locations, we have a portfolio of infrastructure assets deployed across North Carolina, including: 
1,370 towers
520 fiber miles
350 small cell nodes 
What do you love most about doing business in NC? 
We love that North Carolina, and especially its urban centers, are growing rapidly and fostering innovation as they grow. Crown Castle maintains relationships and works collaboratively with a variety of municipalities across the state to support their communications objectives and provide critical connectivity to their residents. 
Additionally, we treasure the things that make North Carolina unique, like the esteemed colleges and universities that provide a skilled, knowledgeable workforce; tech hubs of the Triangle and Charlotte that foster innovation; a business friendly economic environment that attracts talent; a mix of business, cultural and lifestyle entertainment options; and generally a great quality of life.  
If you could describe your corporate culture in just 3 words, what would you say? 
Accountable, Collaborative, Transparent 
Can you share some unique or fun facts about your company? What makes your business stand out? 
Crown Castle is the largest shared communications infrastructure provider in the nation and we are the best at deploying, operating and innovating in that space. 
Fiber: approximately 65,000 route miles of fiber, with a presence in 23 of the top 25 US markets, serving over 25,000 buildings, and over 900 connected data centers
Small Cell: approximately 65,000 small cell nodes on air or under contract in over 500 municipalities around the country
Towers: more than 40,000 cell towers comprising approximately 91,000 installations and 71% of our towers are in the top 100 markets 
What kind of technology trends have affected your company, and how has your company dealt with those trends? 
Smart phones and wireless devices have become the keys to our communities, putting instant information about transit, traffic, health services, safety alerts, and community news into millions of hands. Smart Communities are taking advantage of the technological revolution by utilizing data and technologies to create efficiencies, improve sustainability, create economic development, and enhance the quality of life. Furthermore, various other industries, including manufacturing, will all benefit from advanced telecommunications.   
Crown Castle's infrastructure is the backbone of the current and future communications ecosystem. 
What are the greatest obstacles and/or challenges that your business has faced? How have you and your business overcome them? 
Technology and connectivity are no longer luxuries, but necessities.  Consumer demand and the pace of technological innovation are challenges for a number of sectors. Crown Castle works with mobile carriers, municipalities and enterprise clients toward network densification for reliable connectivity to meet the current demand and prepare for future consumer needs. Crown Castle's portfolio of towers, fiber and small cells provide a platform for the necessary reliable connectivity to support public safety, economic viability, and emerging technology trends. 
Are there any cool or interesting technologies you are working with currently? 
Future development of 5G, along with the technologies that will come with a new generation of wireless connectivity like autonomous vehicles and industrial manufacturing efficiencies will change the way businesses and consumers interact with technology. 
Deploying the nation's first 5G network will be essential to ensure world leadership in technology and telecommunications innovation, as well as our national security. Winning the race to 5G is largely dependent on government leaders prioritizing next generation communications infrastructure deployment today so that the U.S. is the world's innovation leader tomorrow. 
Crown Castle has a proven record of working collaboratively with North Carolina municipalities in creating installations that allow for our customers to provide service to their customers, while respecting the objectives of municipalities to minimize the appearance of our installations. Our shared infrastructure model aligns with municipal objectives to minimize pole proliferation by housing multiple carriers on a single pole wherever possible. 
Is there anything on your website you want to highlight or any special events you want to promote? If so please share descriptions and relevant links. 
---
Interested in submitting a piece for the NC TECH blog?
Visit our Marketing Toolkit page for a submission form. Questions? Contact Rachel Kennedy.