February 28, 2018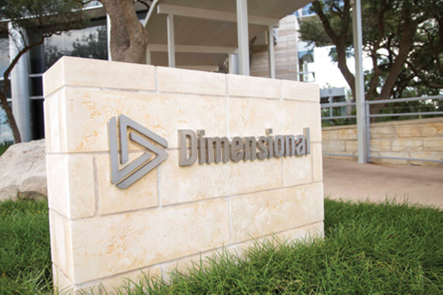 Dimensional Fund Advisors was founded in 1981 with clients around the world, and 12 offices in eight countries. Dimensional Fund Advisors is a leading global investment firm that has been translating academic research into practical investment solutions since 1981. Dimensional has more than 1,100 employees around the globe.
Guided by a strong belief in markets, we help investors pursue higher expected returns through advanced portfolio design and careful implementation. Dimensional has global assets under management of say $548 billion as of September 30, 2017. 
The firm is currently leasing office space in Uptown Charlotte and constructing a new building in the South End, with completion expected in 2018. The new building will include employees working in portfolio management, trading, client services, and other key functions. Eventually, Dimensional plans to have more than 300 employees in Charlotte. 
Dimensional is energized by Charlotte's vibrancy, and we believe our business is well matched for the community's portfolio of financial companies. The new regional headquarters in Charlotte will enable the firm to enhance the services we offer our clients and provide state-of-the-art facilities for conferences and meetings, benefiting both our clients and our employees. We believe being in Charlotte and the region will also help us attract talented individuals to the firm.
---

NC TECH recently sat down with member company Dimensional Fund Advisors. Below is our Q+A.
What is Dimensional Fund Advisors Corporate Culture? 
Learning, innovation, and dedication to always doing what's right for our clients. 
What makes Dimensional Fund Advisors stand out? 
Four Nobel laureates in Economic Sciences have worked with Dimensional: Eugene Fama, (the late) Merton Miller, Myron Scholes, and Robert Merton. We continue to work with academic experts to help us innovate and assess the solutions we offer our clients. 
Dimensional holds more than 450 events with more than 15,000 attendees across the globe each year. 
Every day, Dimensional's Investment Analytics and Data (IAD) team—a diverse group of researchers, engineers, and programmers—deals with 21 million pieces of data from securities around the world. 
In November 2008, founder and Executive Chairman David Booth made the largest donation in the University of Chicago's history and what was at the time the largest gift to any business school in the world. The combination of an up-front payment, the income stream, and the equity interest provided by the Booth gift is valued at $300 million. In recognition of the gift, the school was renamed the University of Chicago Booth School of Business. 
How has Dimensional Fund Adivsors faced new and ever-changing technology trends? 
As cloud technology has improved, many organizations, including Dimensional, are increasingly shifting key pieces of their infrastructure onto the cloud. We see the shift toward a cloud-first strategy as a way to support our commitment to keeping our critical systems, along with the client assets they handle, continuously available. A few other recent developments have enabled us to refine the way we engage with our clients: We have adopted a mobile-first approach to reach clients on the wide range of devices they use, and our extensive use of video conferencing allows us to hold meetings with and deliver presentations to people around the world. 
What are some cool or interesting technologies you are working with currently? 
Dimensional works with several advanced data visualization frameworks, which allow us to tell our story to clients, prospects, and the public in a dynamic, interactive way. More internally, developments in Platform as a Service architecture and converged infrastructure have enabled our Technology organization to meet the business's changing needs more readily.
Recent accolades and/or awards you've received?
Dimensional was named "2017 Retirement Leader of the Year" by Fund Intelligence, sponsor of the 24th Mutual Fund Industry Awards. The award is given to a firm that has made a key impact on growing retirement assets with unique retirement solutions, marketing campaigns, and significant contributions to the retirement industry at large.
Contact Dimensional
---
Interested in becoming our next NC TECH Executive Spotlight?
Visit our Marketing Toolkit page for a submission form. Questions? Contact Rachel Kennedy.