June 01, 2018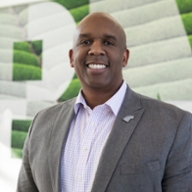 ABOUT TIM
Hometown: Fayetteville, NC
University: NC State University, B.S. - Electrical Engineering
Company/Employer: IBM
Title: Vice President, Chief Data Office; North Carolina Senior State Executive; Research Triangle Park Senior Location Executive
BUSINESS INSIGHTS
Career Lessons Learned?
You will experience failures – the key is not to focus and wallow on them. It's important to learn from your failures to help you grow. Failures should make you more resilient, and the lessons learned from them should make you a better leader.
What led you to your current company?
While I was studying electrical engineering at NC State, I was fortunate enough to have the opportunity to do three co-op rotations working in the IBM Technical Support Help Center. That opportunity gave me the ability to pay for the last year and a half of my schooling. Entering my last semester at NC State, I wanted to keep my options open, so I interviewed with several companies. The on-campus recruiter for IBM was very dynamic and sold me on the many experiences that an international company like IBM could provide. Because of my co-op and a very dynamic IBM recruiter, I was very grateful to IBM and extremely excited when I received the offer to work as a product engineer in the PC company after I graduated.
Three things to sum up your business?
IBM is over 100 years old, steeped in tradition and continuously transforming. Three things that really sum up IBM are our commitment to our values: 1) Dedication to every client's success. 2) Innovation that matters – for our company and for the world. 3) Trust and personal responsibility in all relationships.
Biggest Company Challenges?
We're at an inflection point where business and technology architectures are exponentially progressing. This means widespread disruption; new business models, new jobs, and new technologies will emerge. To meet this, we need to ensure our employees understand our strategy and how their work contributes to it. We must also ensure that the challenges we face are viewed as opportunities to contribute, win, and learn. Lastly, we create an environment where employees are engaged and feel inspired to achieve.
Advice to students interested in pursuing careers in STEM?
1 - Do your best to become a sponge: Put yourself in a continual learning mode. Always have a thirst for more knowledge, and realize that you can learn not only from books, projects, and professors, but from peers and others in the field you would like to pursue. 2 - Graduate with as much experience as possible: Internships and co-op positions will help you understand your field of study from a real-world perspective. You'll get an early taste of what you like and dislike and you'll be able to adjust your outlook accordingly. The ideal candidate for any employer is a student with academic excellence and real-world experience. 3 - Embrace change: The technology industry is changing rapidly. There are STEM-related jobs today that didn't exist five years ago. Never fight change, but instead embrace change. See change as the opportunity to learn new things and contribute in new areas.
Work Hard, Play Hard
What is your personal mantra?
The most rewarding feeling comes when you give back. Thus, my motto is "always try to help people."
What is your favorite movie and/or tv show?
Game of Thrones
What are your favorite apps?
My favorite apps are The Weather Channel, Fandango, and OpenTable.
What is the one piece of technology you can't live without?
Those that know me understand that I have a tough time staying still. They also know that I love to walk. I have participated in and sponsored many step competitions at IBM. Thus, the piece of technology I could not live without would be my FitBit.
What is your favorite thing about living and working in NC?
My favorite thing about being in North Carolina is that I am so close to my mom, who lives in Fayetteville. She means the world to me. Other than mom, I love the college sports rivalries that exist here (go Pack), the many great companies in the Triangle, and there's nothing like our hidden gem, the truly great people we have in North Carolina. I'm very happy to start chapter three of my life here in North Carolina with my new wife.
What's something on your bucket list?
To visit Australia.
What is your guilty pleasure?
Poker. It gives me the opportunity to exercise strategic thinking skills. In addition, hanging out with friends and the thrill of victory combine to generate a lot of fun.
---
Interested in submitting a piece for the NC TECH blog?
Visit our Marketing Toolkit page for a submission form. Questions? Contact Rachel Kennedy.