Shifting one's focus from getting to giving, in this case meaning constantly and consistently adding value to other people's lives, is not only a nice way to live life but a very profitable way as well.  Such is the premise of a great little book called The Go-Giver in which the main character, Joe, learns the secret to achieving stratospheric success in all areas of his life.
Steve Eanes, with NC TECH member Digital Realty, had his first experience in sales at 11 years old with newspaper subscriptions in Charleston, SC.  This led to selling soft drinks and candy on the playground in 8th grade to fellow students.  For the past 25 years, Steve has been blessed with great success as a sales professional in the highly competitive technology field including the past 3 ½ years with Digital Realty.
In August 2000, Steve was diagnosed with Stage 3 Malignant Melanoma.  With participation in a 1 year clinical trial, he was given less than a 30% chance of living 5 years.  This resulted in Steve's life goal becoming focused on building great relationships, providing excellent value whether someone did business with him or not and leaving his world better than he found it.  Being blessed to not only survive 5 years in 2005 but also to celebrate 21 years cancer free in 2021 has further emboldened Steve to live out this goal.
In our time together in this session, Steve will share the Go-Giver 5 Laws and how you can utilize them to Walk In Your Value to achieve Stratospheric Success in all areas of your life.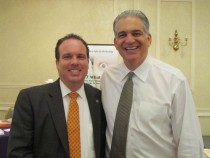 Steve Eanes with Bob Burg, author of The Go-Giver
When
Wednesday, December 8
3:30 - 4:30 PM
Registration
This event is open to current members of the NC TECH Board of Advisors - to register, please contact Emily Young.
Can't attend December 8? 
We are also hosting this event on Tuesday, December 14 at 9:00 AM.