The Betsy Y. Justus NC TECH Founders Scholarship was established in memory of NC TECH's founding CEO. Following her passing, NC TECH launched a scholarship to support young women in North Carolina who pursue an academic and career path in Technology or Engineering.  Every year, two students are selected to receive a $4,000 scholarship ($1,000 per year) and a personal computer provided by Lenovo.  NC TECH accepts applications in April-May each year.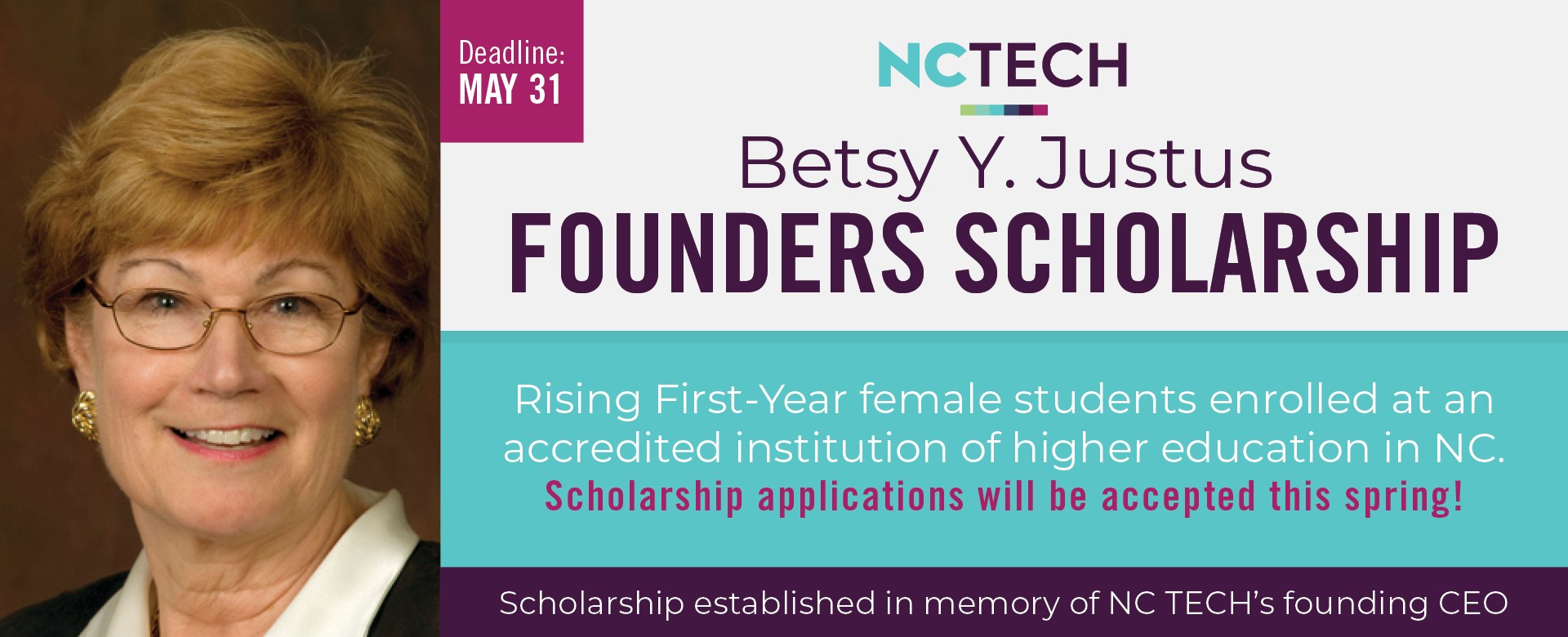 ELIGIBILITY
Rising female college freshman, re-entry or transfer student, enrolling for undergraduate course work at an accredited institution of higher learning located in North Carolina.  Must qualify for North Carolina resident status for tuition purposes.
Cumulative grade point average of at least 3.0 on a 4.0 scale.
Must declare a technology or engineering major and demonstrated interest in pursuing a related career.
NOW ACCEPTING APPLICATIONS THRU MAY 31
A complete applications includes:
Application + Essay Questions 
Transcript (Note: Transcripts to be sent directly to NC TECH by your current/most recent academic institution, or if sent by the applicant, must be sent in a sealed envelope and stamped or signed by school official across the seal.)
Proof of Acceptance (Applicant must provide acceptance as a rising freshman, re-entry or transfer student at an accredited institution of higher education in North Carolina).
Letter of Recommendation (Applicant must have a faculty member, academic advisor, or community leader submit a recommendation letter directly to NC TECH, or if sent by the applicant, must be in a sealed envelope and signed by writer across the seal.)
---
 Past Scholarship Recipients