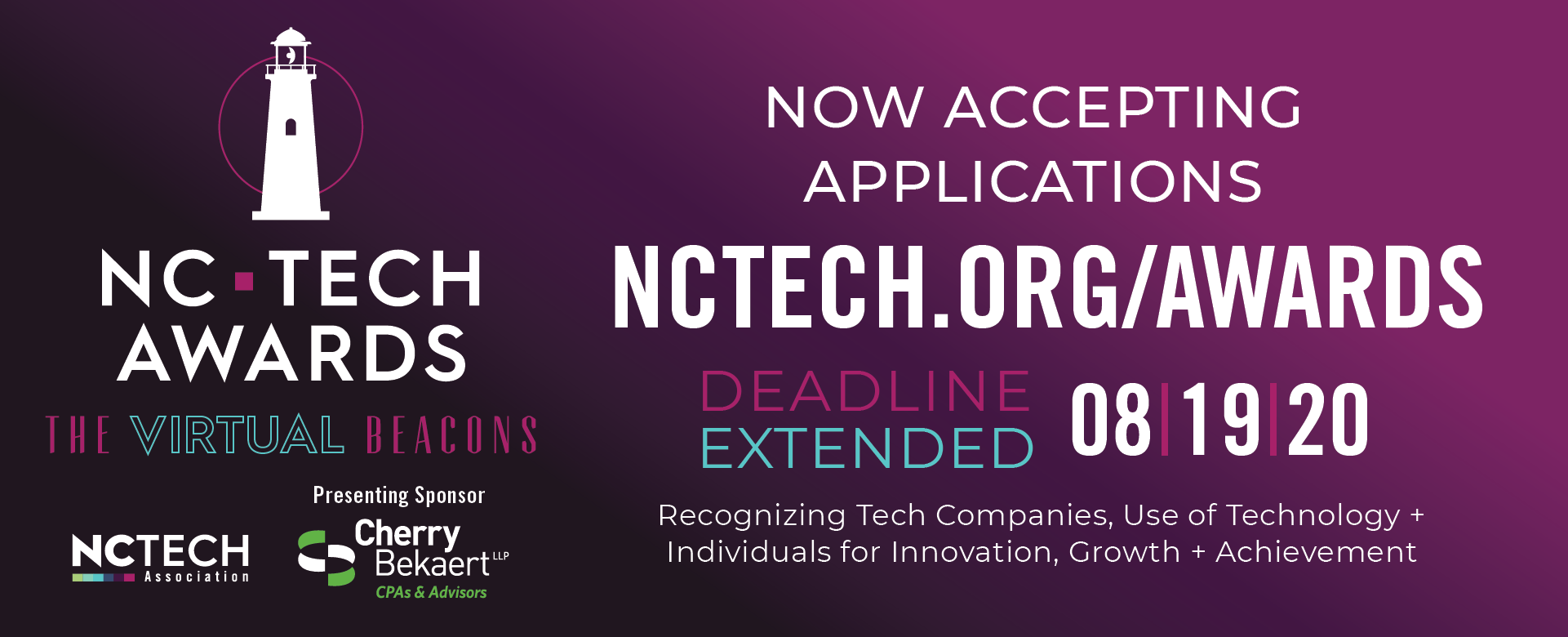 Welcome to the submission site for the 2020 NC Tech Awards – North Carolina's only statewide tech awards program dedicated to celebrating growth, innovation and leadership.  We encourage you to participate in the awards by submitting an application on behalf of your employer or by nominating another company, organization or individual you would like to see apply to be recognized. 
Applications will be reviewed in a two-stage review process, led by the accounting firm Cherry Bekaert, in partnership with an independent selection committee. Finalists will be notified in mid-late September and winners will be announced at the NC Tech Awards Gala on November 4 at the Raleigh Convention Center.
The Submission Period is Now Open Through July 17
Click below to visit the online application site to submit your application. View the application fields here before beginning application.
Create an account to begin the process. Contact support@reviewr.com if you're having issues creating a new account or logging in to your previous account. 
You can submit for multiple categories.

NC TECH will notify all participants when the finalists have been chosen. Winners will be announced at the November 4

 NC Tech Awards Gala.
View the application fields before beginning application here.
View Tips and FAQ's for creating a winning application here.

NOMINATE A COMPANY OR INDIVIDUAL
Know someone who would be eligible for one of the NC Tech Awards categories? Submit a short nomination form on their behalf. NC TECH will contact the nominee to encourage them to submit an application to be considered.



Submission Webinars
Questions about the NC TECH Awards application process? Participate in one of the below webinars and get updates on the submission process, awards gala and sponsor information.
Selection Process
Presenting Partner Cherry Bekaert will conduct a thorough review of all applications and will provide data points to an independent Selection Committee. The Selection Committee is comprised of leaders from across the state representing industry and entrepreneurial non-profits, economic development organizations, venture firms, higher education institutions and media.  A Selection Committee meeting will take place to determine the slate of finalists and winners.  The Selection Committee roster will be released soon.
Award Categories